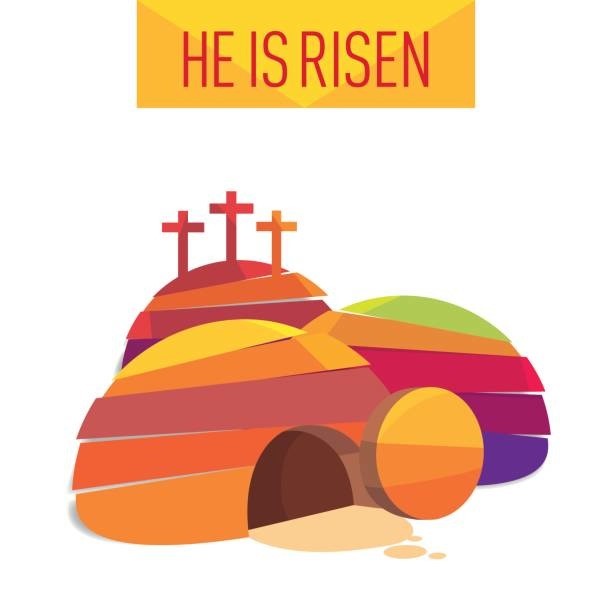 After Jesus died, some of his friends laid his body in a big tomb. They sealed it shut with a large stone. Soldiers guarded the tomb.
Three days later, the earth shook. An angel of the Lord came down from heaven and pushed the stone away from the tomb. Then the angel sat on the stone. When the soldiers saw the angel, they fell to the ground.
Mary was walking to the tomb with some of her friends. They saw the angel, who said, "Do not be afraid. Jesus is not here. He has risen! Go and tell Peter and the other disciples that Jesus is alive!" On their way way, the women saw Jesus. They fell to their knees and worshipped him. Jesus smiled and said, " Go and tell the others that I will see them in Galilee."
So Mary ran to tell the disciples.
(taken from 'The Beginners Bible, Mission City Press)
Jesus rose from the dead! How extraordinary! Jesus is alive!
Did you get a chocolate egg this morning? When I was a little girl, many years ago, we would be so excited on Easter morning. Me and my brothers and sisters would come down to the kitchen where breakfast was laid on the old wooden table. Mum and Dad would have gone to the early morning church service and we had to wait until they came home, looking at the breakfast table where in each of our places was a brown paper bag!!! It felt like a long time….. In the bag was our chocolate Easter egg. Just one each….and in those days there was a cellophane bag inside with chocolates in. My favourite, the one I remember the most was a Swan egg where the swan's egg body was wrapped in beautiful aqua foil.
These days chocolate eggs are usually empty with the chocolates that used to be inside, outside. This is good because it reminds us that the tomb, the place where they laid Jesus when he had died, was empty. Jesus was not dead anymore. Eggs also remind us of new life…..and that's what Jesus had - new life. When we follow Jesus, learning about him and from what he said and did, we too can have a new life, living the Kingdom of God way, the way Jesus wants us to live.
Now
I wonder what colourful creation you can make with the foil around you eggs?
You could make an egg shape and collage it on, or use the foils to create a floor collage.
Email me pictures of your creations and we will put them on the church website.
Happy Easter and eat the chocolate fast enough to enjoy but slow enough not to be sick!!!