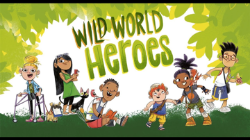 August 14th and 15th from 10 am to 4 pm at St Mark's.
Tattenham Community library is joining in The Summer Reading Challenge which encourages children aged 4 to 11 to enjoy the benefits of reading for pleasure over the summer holidays. This year's theme is Wild World Heroes, created in partnership with WWF and illustrated by award-winning children's author and illustrator Heath McKenzie.
Wild World Heroes will inspire children to explore ways of helping to save the planet.
For more information see the official Challenge website: https://summerreadingchallenge.org.uk or visit Tattenham Community Library.
Now get creative. Get out your paints, crayons. glue and anything else and create something in response to what you have read, learnt or done during this challenge.
You can bring your artwork to St Mark's Church (main entrance) from 2pm until 6pm on August 13th and collect from 4pm until 6pm on Sunday 15th, or 10-12 on Monday 16th.
Although the exhibition is mainly aimed at children, anyone is welcome to contribute art on an environmental theme. The 'Friday Painters' will also be exhibiting and their paintings are for sale.
If you are unable to bring it at this time please email Liz Townsend or Lesley Sedgwick